BIOGRAPHY
Hi Everybody, It's a pleasure to have you here and I hope you will enjoy what you see… because what you see is what you get!
Well, little Saskia was born on the 17th of april 1979 in a little village called: Dinxperlo. It's in the east of Holland.
Everybody in my family had something to do with sport, my parents, sister en brothers where great swimmers, so was I, but it just wasn't enough for me, so I did more, I also played soccer, horse riding and played tennis. But of course it was too much to go on all my life.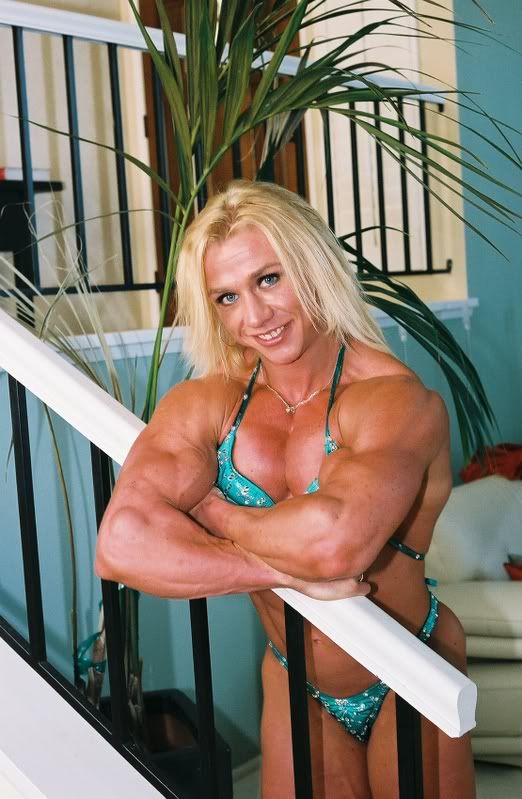 When I was 16 years old I wanted to join the army, and had to do the physical tests. That was my first reason I walked into the gym, I wanted to create some musclepower so they would let me into the army.
I got through the tests and joined the army for almost 6 years, i worked as a corporal with satelite communications, was a mag sharp shooter and combat life saver, served in Kosovo with the KFOR mission in 1999 for 6 months and went to military school after that and became sergeant. I liked training with weigths so much that I never stopped lifting. I just wanted to go on with bodybuilding and to do that I had to leave the army. Well, so I did.
In 2002 I met a great female bodybuilder, Anja Timmer, who trained me for a couple of years. She teached me a lot and will always be an example to me.
My dreams where coming true, I won some competitons, moved to the Hague where I had the possibility to focus me for 100% at kneet's gym, one of the best hardcore gyms in Holland.
I Became Dutch Champion, European Champion, Vice Ms Universe and in may 2007 I achieved the IFBB professional status.
One day I'll hope to get on the Olympia stage as a competitor, and because I think that when you have the strength and power never to give up, everything is possible !
I will make my Pro debut in 2008 and I promise you... I will be on stage, harder, bigger and with a lot more definition I ever had!!
I still live in The Hague but travel back and forward to the States. In my free time I enjoy beeing at home, playing with my dog Nünja a Rottweiler, riding my Kawasaki Ninja or relax with friends at the boardwalk.
For my fans: It is also possible to meet me, you can contact me for further information.
Well everybody, thanks for all your support and best wishes for all of you!!
Saskia